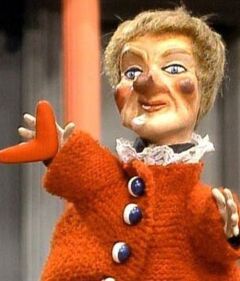 Lady Elaine Fairchilde first appeared on the Children's Corner as a very unique, self-confident, and eccentric woman who operated the Rapid Walking Beauty Counseling and Professional Bridesmaid School in the Trolley Barn.
Carrying over to Misterogers and through the run of Mister Rogers' Neighborhood, she moved from Someplace Else and took over as the curator of the Museum-Go-Round upon the departure of the Frogg family.
Lady Elaine is the Neighborhood mischief maker and, having learned from the Wizard of Lupovich, often uses her "Boomerang-Toomerang-Soomerang" to do things such as rearrange the Neighborhood or to turn it upside down. She is credited with the discovery of Planet Purple which she found while flying in her spaceship. Lady Elaine also owns a helicopter named Yo-Yo and once opened a pie restaurant in the Neighborhood Of Make Believe.
Lady Elaine Fairchilde is a long-time friends of Betty Okonak Templeton and Barbara Russell. Twice, Lady Elaine mistakenly thinks she is engaged to be married -- once to Corney and then to Neighbor Aber. Lady Elaine also has a sister named Barbara and regularly addresses others as "toots."
According to a Neighborhood census, Lady Elaine can whistle and her favorite color is red. She plays the piano, the accordion, and the oboe and is the acting manager of MGR-TV where she produces a soap opera, As the Museum Turns. A glimpse into Margret H. Witch's crystal ball reveals that Lady Elaine will live to be at least 250 years old.
Lady Elaine knit her own sweater and celebrates her birthday on February 21st.
Lady Elaine's Home
Edit
Lady Elaine operates and lives in the Museum Go Round in the Neighborhood Of Make Believe.
Community content is available under
CC-BY-SA
unless otherwise noted.