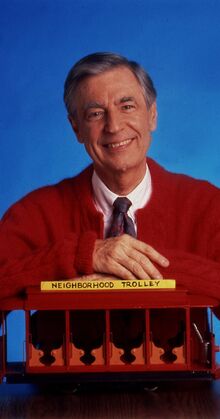 Fred McFeely Rogers (March 20, 1928 - February 27, 2003) was the host and creator of the Mister Rogers' Neighborhood series. He was born in Latrobe, Pennsylvania to James and Nancy Rogers; He had one sister, Elaine Rogers Crozier. Early in his life, Fred spent much of his free time with his maternal grandfather, Fred McFeely, who would later move to Florida. He later married Sara Joanne Byrd.
In 1966, Rogers got the rights for his TV program, Mr. Rogers Neighborhood. In this show, he educated children about many different things, such as friendship, love, etc. Another segment of the show consisted of Rogers in diverse places, where he talks to people about their work and other contributions, focusing on the theme relating to the episode, such as Brockett's Bakery, and Negri's Music Shop. In one episode, Rogers took the show behind-the-scenes on the set of The Incredible Hulk, which aired on CBS from 1978 to 1982.
In December, 2002, after years of his TV program, Rogers was diagnosed with stomach cancer, not long after his retirement from work at PBS. He underwent surgery on January 6, 2003, which was unsuccessful. The doctors said he would not live. On February 27, 2003, Rogers passed away peacefully in the Pennsylvania Hospital and was remembered for his outstanding work with children. His memorial statue is in Pennsylvania City, and today the Mr. Rogers Museum in Pennsylvania holds the exact sweater that Mr. Rogers wore on TV.
Community content is available under
CC-BY-SA
unless otherwise noted.